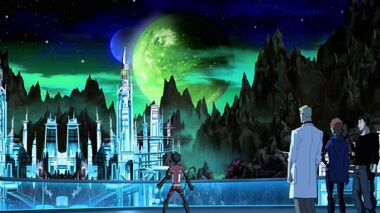 Earth-7 is an alternate reality, very similar to Earth-616. However, Earth-7 is the birth place of the mutant, Artemis Panther. After his existence is created, everything goes in a different direction.
Most of Earth-7's past reflects Earth-616, but the present and future are yet to be determined. It also contains teams such as Alpha-X and the All-New Avengers.
Earth-7 contains many original characters that do not exist in Earth-616, such as Hotstreak or The Regime, but many aspects are similar to Earth-616, such as Cyclops being possessed by Dark Phoenix and killing Professor X, or the Skrulls once tried to take over the planet and claim it as their own.