Eukaris
is a dense tropical
Cybertronian colony
inhabited by
bestial
Transformers
.
History
Origin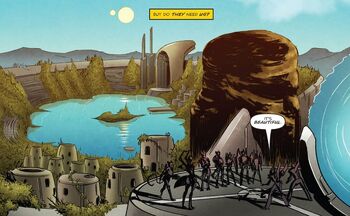 Following the end of the
War of the Primes
,
transformers
with
beast modes
began facing discrimination from other Cybertronians.
Onyx Prime
and many of his followers led a colonization expedition aboard their
titan
Ascella
, where they landed on a jungle world that the first wave of colonists would dub "Eukaris". As they settled the planet, Ascella's personal hot spot ignited, giving rise to a new civilization of beast mode Transformers.
Points of Interest
Notes
The adjective for things relating to Eukaris is Eukarian.
Eukaris mostly draws elements, references, and inspirations from the Beast Wars franchise.
Eukarians have a more advanced form of transformation than Cybertronians; when scanning an organic lifeform, they gain synthetic bio-disguises which can render their energy signatures undetected.